Concrete Cleaning Inc., is an approved contractor for FGS/PermaShine System. The FGS/PermaShine process consists of a series of abrasive smoothing steps, when completed, produces an impressive concrete floor surface, both visually, and in terms of durability. When the grinding and polishing steps are combined with the application of a compatible, liquid chemical densifier, the result is a smooth, glossy, durable and attractive concrete floor. It produces an almost mirror-like floor that is exceptionally resitant to wear, dusting, marking and abrasion.

Concrete Cleaning Inc., provides quick and professional response to owner's, architect's, and general contactor's needs.

Steel Shot Blasting Experts

- FACTORIES
- WAREHOUSES
- SHOPPING MALLS
- AIRPLANE HANGERS
- RESTAURANTS
- PARKING GARAGES
- AIRPORT RUNWAYS
- CONVENTION CENTERS
- FOOD PROCESSING PLANTS
- SHIP DECKS
- OFFSHORE DRILLING RIGS
- TENNIS COURTS
- UNIVERSITIES/COLLEGES
- RETAIL SPACE
- AUTOMOBILE DEALERSHIPS
- MACHINE SHOPS
- HOSPITALS
- GYM FLOOR REMOVAL
- PAINT BOOTH CLEAN UP
- TERRAZZO FLOORS
- BRICK & TILE FLOORS
- VINYL TILE MASTIC REMOVAL

Need professional concrete cleaning in a hurry?
Click Here for a Free Quote!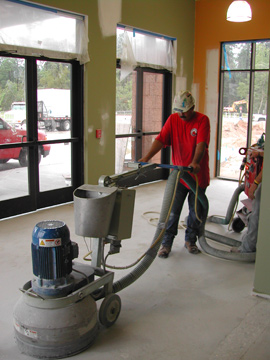 Dust Free
No Clean Up
Polution Free